Santorini Catamaran Cruises: Sail to Paradise in Style
Contents
Book Catamaran Cruise Tickets
Go on a Santorini Catamaran Cruise if you're looking for an unforgettable experience on the stunning island of Santorini. These cruises combine luxury and relaxation with breathtaking sights, making for an incredibly satisfying experience. Here's what you need to know about Santorini Catamaran Cruises.
What Is a Catamaran Cruise?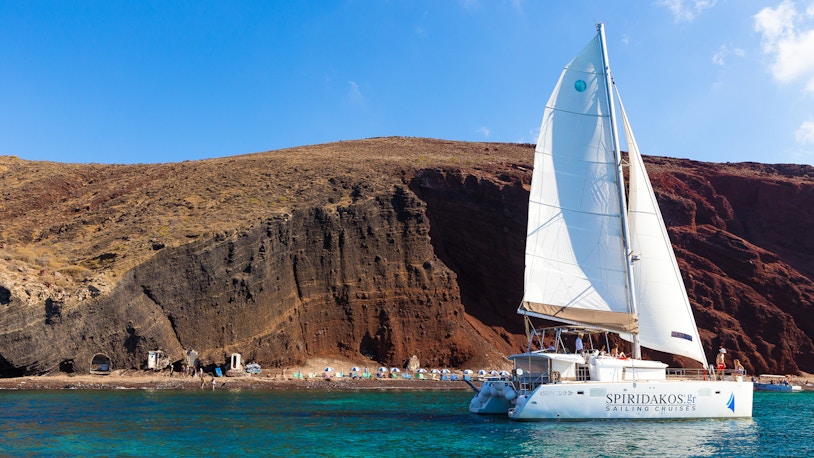 A Catamaran Cruise combines the thrill of sailing with the comfort and elegance of a luxurious yacht. It's like having your own floating paradise as you explore the stunning coastline of Santorini. Here's what Catamaran Cruises have to offer:
Spaciousness: Catamarans provide a generous amount of deck space, allowing you to move around freely and find your perfect spot to relax.
Stability: Thanks to their two-hull design, catamarans offer excellent stability, minimizing the rocking motion experienced on traditional sailboats.
Comfort: Equipped with modern amenities, including comfortable seating areas and sunbeds, catamarans ensure a comfortable and luxurious journey.
Privacy: Unlike crowded tourist boats, catamaran cruises typically have limited passenger capacity, giving you a more intimate and exclusive experience.
Hidden treasures: Catamarans can access hidden coves and secluded beaches inaccessible to larger vessels, allowing you to discover secluded spots.
Why Choose a Santorini Catamaran Cruise?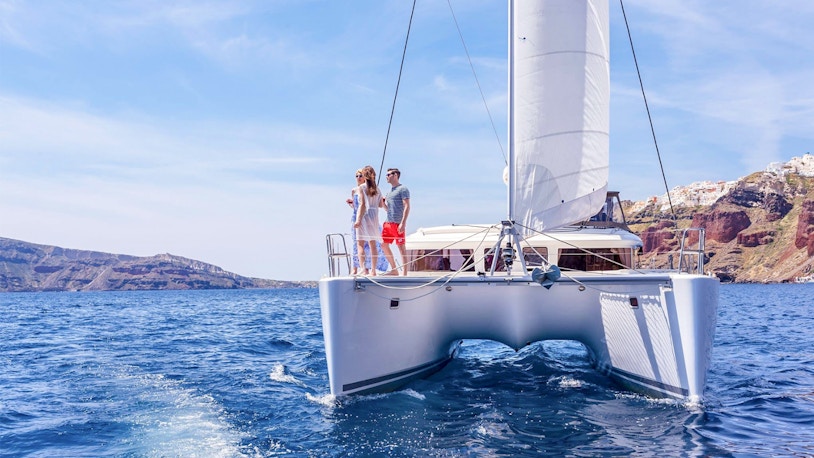 Gourmet Delights: Many catamaran cruises offer delectable onboard meals and refreshing beverages. Savor local specialties and fresh seafood, and enjoy a glass of chilled Santorini wine while cruising along the coast.
Spectacular Views: Enjoy panoramic views of Santorini's iconic caldera, dramatic cliffs, and volcanic islands while sitting comfortably in the catamaran. 
Sunset Magic: Witness the captivating sunset over the Aegean Sea as the golden hues paint the sky and reflect on the water.
Flexibility and Freedom: Whether you prefer a morning cruise, sunset sail, or a full-day adventure, there are options to suit every schedule. You can also choose between shared or semi-private cruises, depending on your preferences.
Exciting Activities: Take a dip in the crystal-clear waters of the Aegean Sea, snorkel around volcanic rock formations, or simply relax on deck and soak up the Mediterranean sun.
Highlights of the Santorini Catamaran Cruise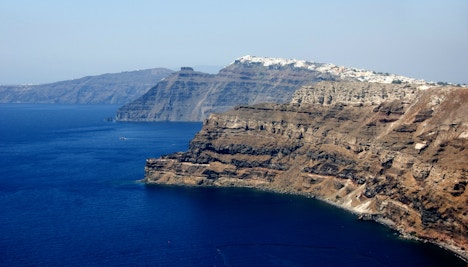 Caldera
The volcanic Caldera is the crown jewel of Santorini, offering stunning panoramic views of the island's dramatic cliffs and azure waters. As you sail along the Caldera, you'll witness the unique geological formations that make Santorini a natural wonder.
Red Beach
Nestled near the village of Akrotiri, the Red Beach is a sight to behold. Its vibrant red cliffs and sparkling red pebbles create a striking contrast against the deep blue sea, making it a favorite spot for photography enthusiasts.
White Beach
Located close to the Red Beach, the White Beach captivates with its pristine white cliffs and sparkling turquoise waters. Accessible only by boat, this secluded paradise is perfect for swimming, snorkeling, and sunbathing.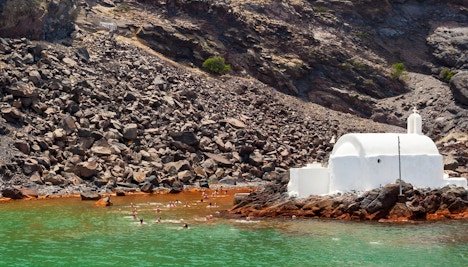 Hot Springs
Immerse yourself in the warm volcanic waters of the Hot Springs believed to have healing properties. The natural sulfur-infused waters are not only rejuvenating but also offer a unique bathing experience.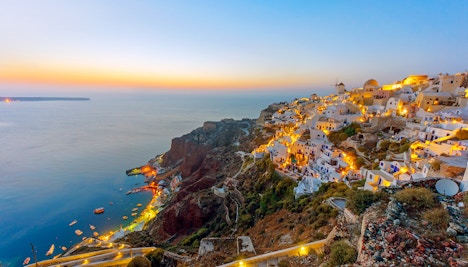 Oia Sunset
Witness one of the most mesmerizing sunsets in the world. Sailing towards the village of Oia, you'll be treated to a breathtaking spectacle as the sun dips below the horizon, painting the sky with vibrant hues of orange, pink, and purple.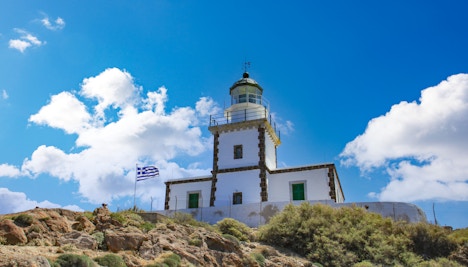 Santorini's Lighthouse
As you sail along the coast, catch a glimpse of Santorini's charming lighthouse perched atop a rugged cliff. This picturesque landmark adds a touch of romance to your catamaran cruise and offers a stunning vantage point for panoramic views of the island.
Santorini Catamaran Cruise Tickets Explained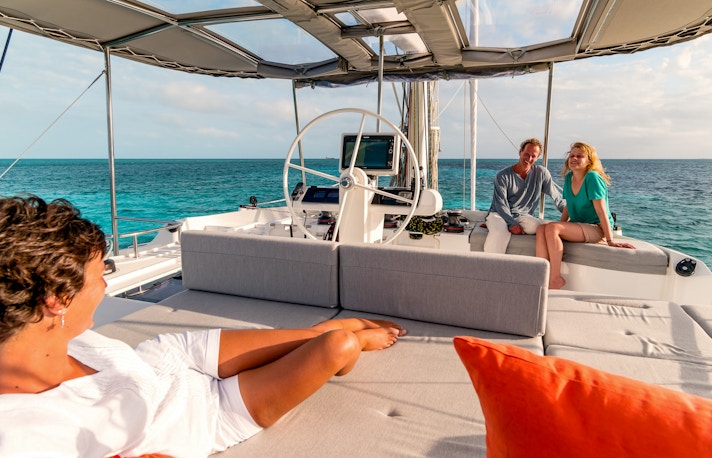 Luxury Cruise for a Small Group
Explore the beauty of the Santorini coastline in an intimate setting with a limited number of passengers.
Indulge in a delicious BBQ meal and seafood with complimentary drinks.
Unwind on spacious decks and soak up the sun while the professional crew takes care of your every need.
Choose the morning or evening cruise as per your preferences.
Book Now
Catamaran Cruise + BBQ, Drinks & Transfers
Embark on a 5-hour-long catamaran adventure to marvel at the famous volcanic cliffs and stunning beaches.
Immerse yourself in the beauty of the Santorini coastline and swim in the hot springs.
Enjoy a mouthwatering BBQ meal with refreshing drinks on board.
Make the most of hassle-free transfers to and from your hotel, ensuring a seamless experience.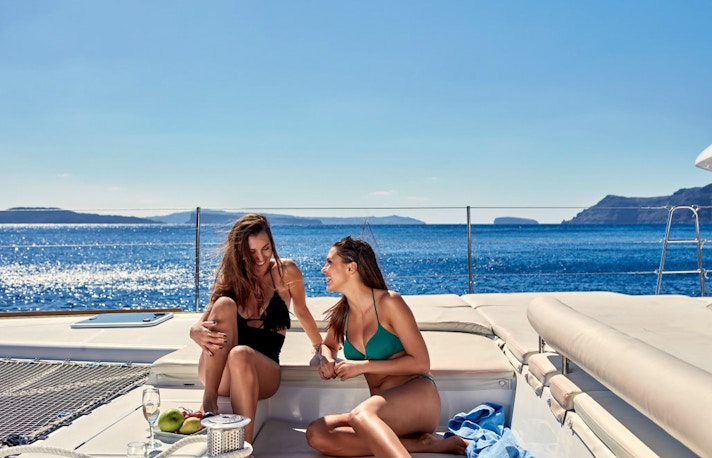 Catamaran Cruise + Greek Lunch & Transfers
Discover the Greek culinary delights while cruising around Santorini's enchanting waters.
Marvel at the Red Beach, White Limestone Beach, and the Venetian Lighthouse.
Swim and snorkel in the cool waters of Mesa Pigadia Cove and the warm waters of the Hot Springs.
Enjoy complimentary transfers to and from your accommodation, ensuring a stress-free journey.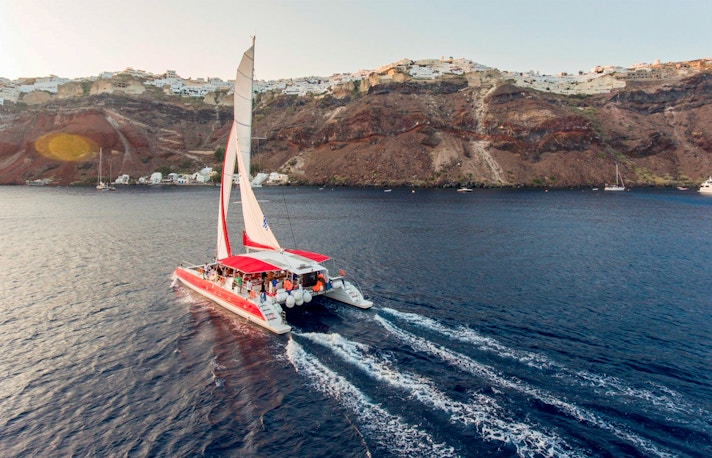 Red Catamaran Cruise + BBQ Meal
Embark on a unique and memorable cruise aboard the Santorini Red, a distinctive red-hulled catamaran.
Soak up the sun on spacious decks and take in the stunning views of the Aegean Sea.
Treat your taste buds to a mouthwatering BBQ meal prepared by the onboard chef.
Dive into the crystal-clear waters for swimming and snorkeling in secluded spots.
Book Now
Onboard a Santorini Catamaran Cruise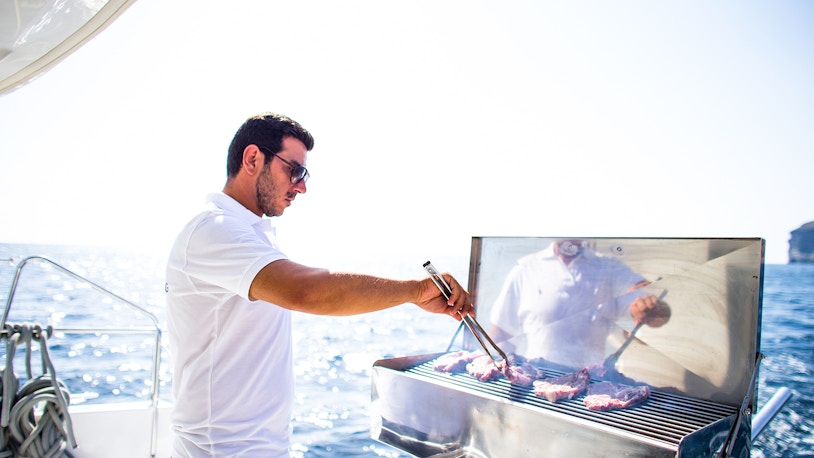 Experienced Crew: All catamaran cruises are led by English-speaking and knowledgeable crew members who ensure your safety and provide insightful information about the sights you'll encounter.
Gourmet Catering: Many catamaran cruises offer delicious meals on board, prepared by talented chefs. Indulge in a scrumptious feast of local delicacies and Mediterranean-inspired dishes.
Open Bar: Some tickets include an open bar, where you can enjoy a selection of alcoholic and non-alcoholic beverages throughout the duration of the cruise.
Snorkeling Equipment: Catamaran cruises often provide snorkeling equipment so you can discover the vibrant marine life beneath the surface.
Comfortable Facilities: Catamarans are equipped with comfortable lounging areas, sunbeds, and spacious decks, allowing you to relax and soak up the sun while enjoying the stunning views.
Plan Your Visit
Timings
Best Time To Visit
Embarkation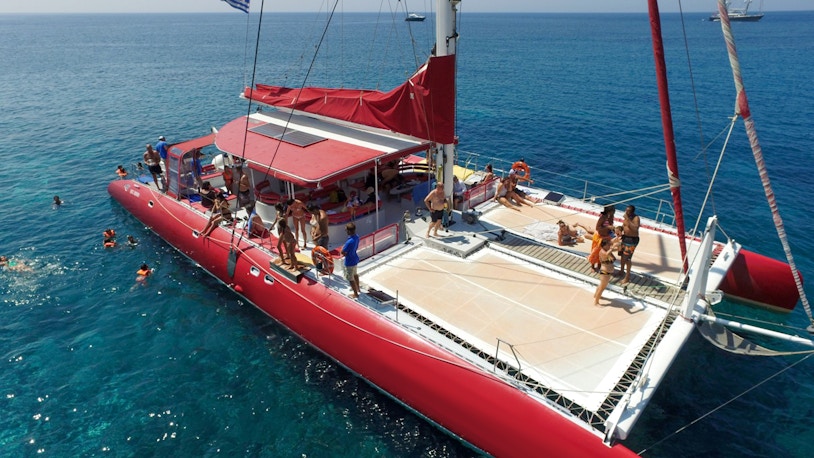 Santorini All-Inclusive Luxury Catamaran Cruise Small Group: There are 2 batches; 10:15 AM and 3:15 PM
Catamaran Cruise in Santorini with BBQ, Drinks & Transfers: There are 2 batches, 9:30 AM and 2:30 PM 
Santorini Red Cruise with BBQ Meal: There are 2 batches, 9:30 AM and 2:30 PM 
Catamaran Cruise in Santorini with Greek Lunch & Transfers: 10:30 AM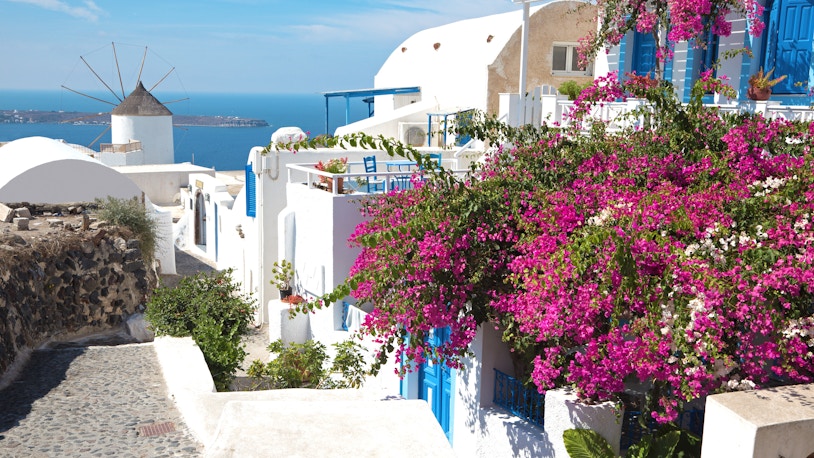 Spring (April - June): The island starts to come alive with blooming flowers and mild temperatures. The crowds are relatively thin compared to the peak summer months, allowing you to enjoy a more peaceful cruise.
Summer (July - August): These months are the peak tourist season in Santorini. The weather is hot and sunny, and the island is buzzing with energy. If you enjoy a lively atmosphere and want to bask in the sun, then summer is the perfect time for your catamaran cruise.
Autumn (September to November): Autumn brings pleasant temperatures and a quieter ambiance. The crowds begin to thin out, making it an excellent time to explore the island's beauty without the hustle and bustle. 
Winter (December to February): While winter months may not be suitable for swimming or sunbathing, Santorini's charm remains intact. If you prefer a more tranquil experience and don't mind cooler temperatures, winter can be a magical time to embark on a catamaran cruise.
All the Santorini Catamaran Cruise tickets provide free pick-ups and drop-offs to and from the respective boarding points. You will be given a pick-up location or asked for one in advance.
Please Note: Ensure that you reach the pick-up location 15-30 minutes in advance and carry a valid photo ID for a seamless experience.
Frequently Asked Questions About Santorini Catamaran Cruises
How long do the catamaran cruises last?
The duration of the cruises varies depending on the package you choose. Most catamaran cruises range from 5 to 7 hours.
What amenities are provided on the catamarans?
Santorini Catamaran Cruises offer top-notch amenities to ensure your comfort. Some common amenities include spacious sundecks, comfortable seating areas, onboard bathrooms, swimming platforms, snorkeling equipment, and complimentary snacks and beverages.
Are the catamaran cruises suitable for all ages?
Yes! Santorini Catamaran Cruises cater to travelers of all ages. Families, couples, solo adventurers, and groups of friends can all enjoy the beauty of Santorini from the comfort of a spacious and safe catamaran.
Can I bring my own food and drinks on the catamaran?
Outside food and drinks are generally not allowed on the catamarans. However, rest assured that Santorini Catamaran Cruises provide a delightful onboard dining experience, serving a variety of delectable meals and refreshing beverages.
How can I book tickets for Santorini Catamaran Cruises?
You can book your tickets online in advance.
What are the highlights of Santorini Catamaran Cruises?
Experience the breathtaking sunset over the caldera, visit the famous Red Beach, soak in volcanic hot springs, indulge in delicious Greek cuisine, and swim in crystal-clear waters.
Yes, the catamarans used for Santorini Catamaran Cruises are fully equipped with safety measures and maintained to the highest standards. Trained and experienced crew members ensure your safety throughout the journey.
What should I bring on a catamaran cruise?
Don't forget to bring your swimsuit, sunscreen, hat, sunglasses, and a camera to capture the incredible moments. It's also a good idea to bring a towel and a light jacket for the cooler evenings.
Is snorkeling equipment provided on a catamaran cruise?
Yes, snorkeling equipment is usually provided onboard the catamarans. You can enjoy the vibrant marine life and discover the wonders beneath the azure waters.
Are there restroom facilities on the catamarans?
Yes, the catamarans are equipped with restroom facilities for your convenience. You can freshen up during the cruise and have a comfortable experience.